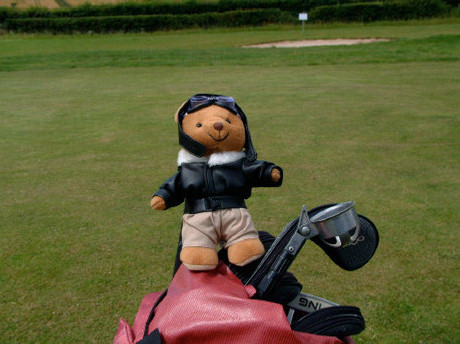 Fred's Story from 2010 to 2011
Authored on his behalf by Jerry Collier
Our Entry mascot is a small stuffed teddy bear decked out in a gin-u-wine leather WW2 flying jacket, soft helmet and flying goggles.

I don't know where Fred-bear originated, but an auction has been held at recent AGM's for the privilege of fostering Fred for the following year.

I had him in 2010/2011, and produced a little show-and-tell (not a dog-and-pony show; more like a bear-and-cretin??) story-book of his time with us.

At the 2011 AGM, Jean Williams won the auction and expressed her intention to do something similar, so it might turn into a saga.

It occurs to me that the Entry at large who didn't attend the AGM last year at Welshpool may like to follow Fred's adventures.